(This post was published on our previous blog on 2/27/2017.)
By Laurie Austin, Former Audiovisual and Textual Reference Archivist
In 1961 photographer Maurice Sorrell found himself in the middle of a public civil rights controversy and ultimately broke the race barrier to the White House News Photographers Association. Born in Washington, D.C., c. 1914, Sorrell began taking photographs in his childhood and by 1946 was photographing weddings and local events on his Speed Graphic camera. He received some photography training in a U.S. Department of Agriculture program and for a while worked behind the scenes in the photography department at the Pentagon. Restricted to the Pentagon darkroom because he was African American, Sorrell turned his attention to freelance photography in 1957.[i] By 1958, Sorrell's work was already being recognized by the Capital Press Club, an association of African American press members.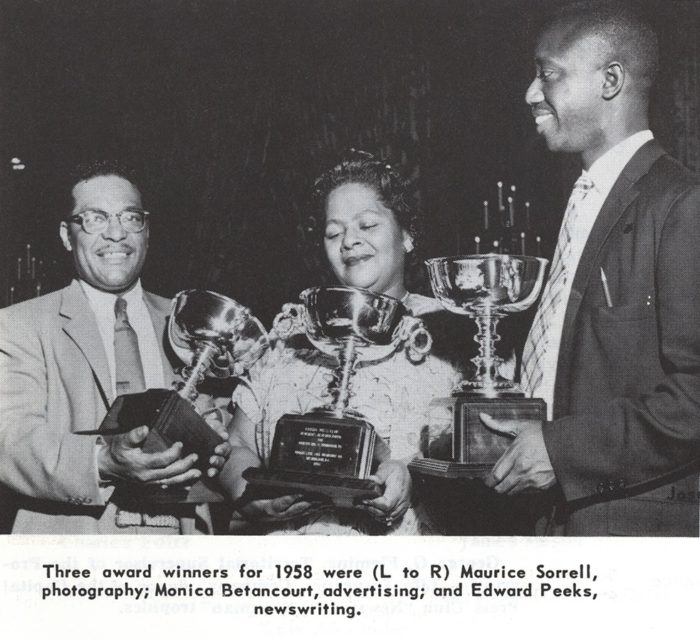 Working for the Washington Afro-American newspaper, Sorrell covered President Eisenhower and continued to cover the new Kennedy Administration in 1961.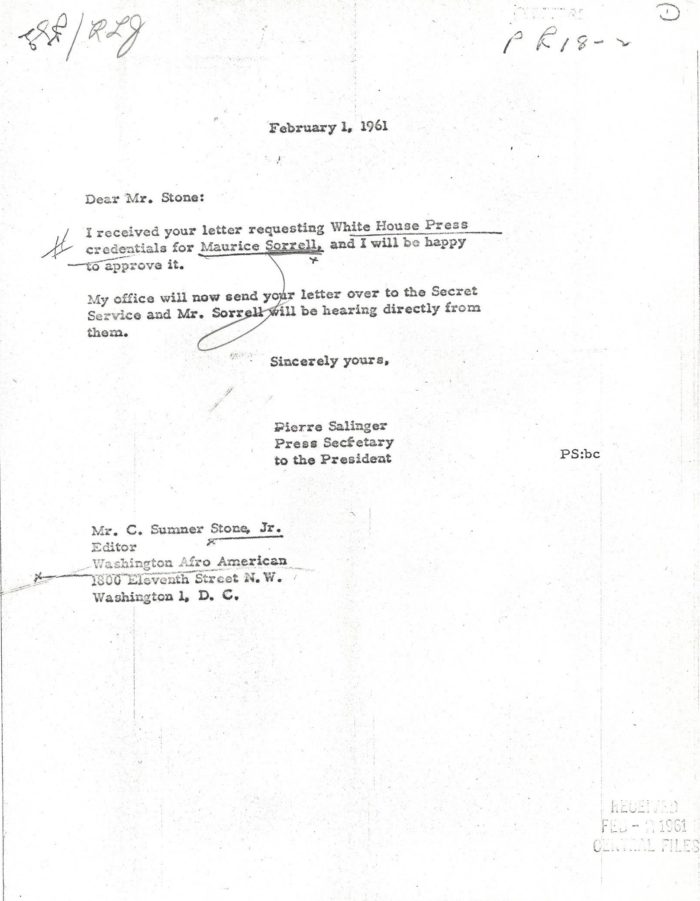 In early 1961 there were still no black members of the White House News Photographers Association (WHNPA), which was a private organization. This detail did not go unnoticed by the White House and objections to this fact had already been raised with members of the Kennedy Administration.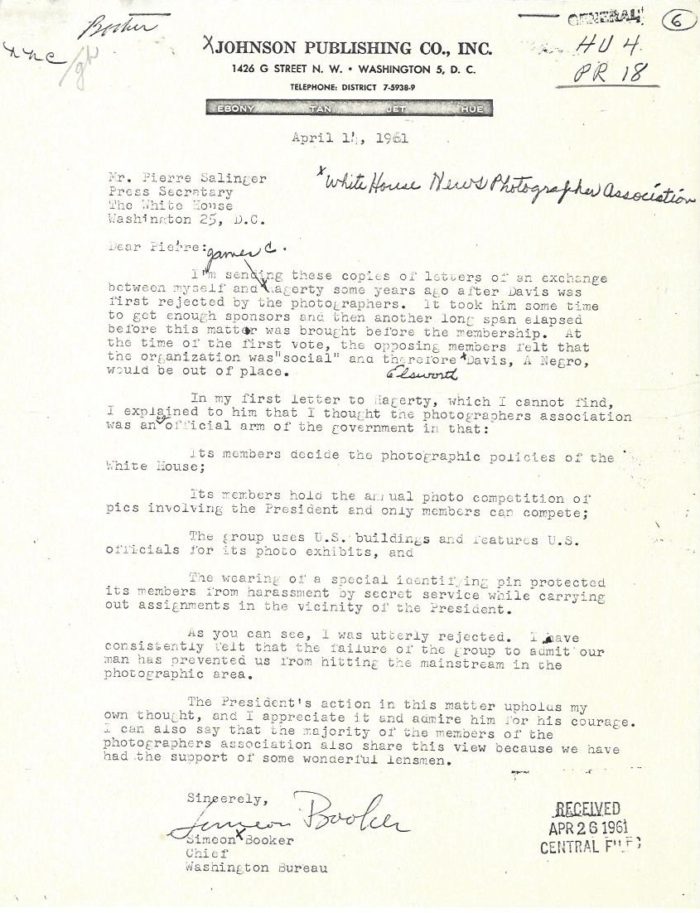 Despite his skill as a photographer and the fact that he had now covered two presidents, Sorrell's application as a member of the WHNPA was being stalled due to a member veto.[ii]
With the WHNPA Dinner approaching in May 1961, President Kennedy received a question at his 12 April press conference:

QUESTION: Mr. President, the White House News Photographers Association bars Negro members. Do you feel that a group attached to the White House should follow such a policy?

THE PRESIDENT: No, I don't. I hope they will let everyone in. …I am sure when the matter is brought to their attention that they will permit everyone who is accredited and is a photographer to come to the White House. That's the way I'd certainly like to see it.
The next day, at Pierre Salinger's press briefing, he got a follow-up question on this topic.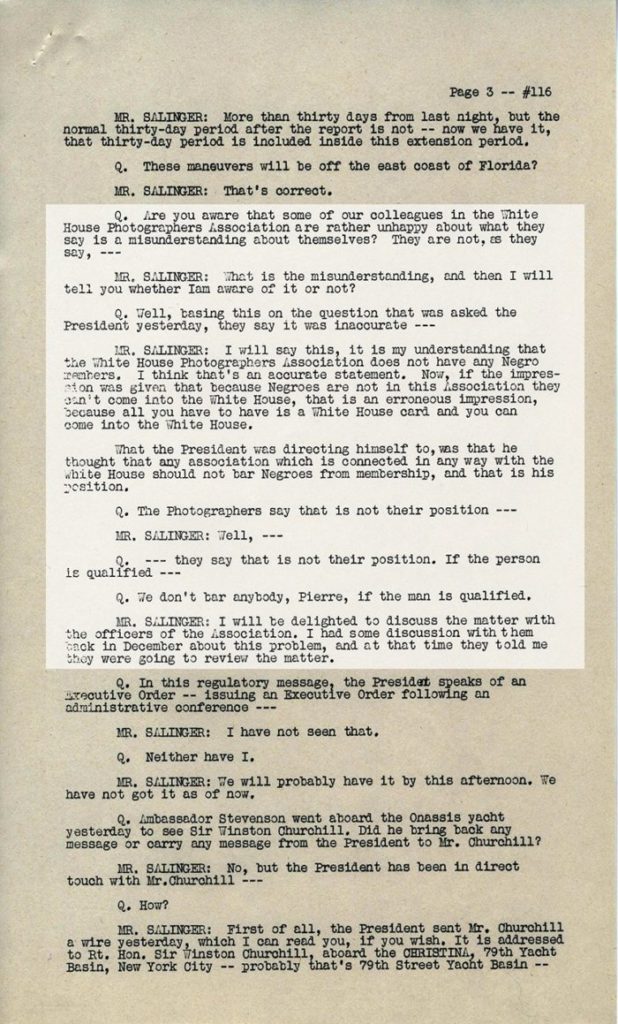 MR. SALINGER: I will say this, it is my understanding that the White House Photographers Association does not have any Negro members. I think that's an accurate statement. Now, if the impression was given that because Negroes are not in this Association they can't come into the White House, that was an erroneous impression, because all you have to have is a White House card and you can come into the White House.

What the President was directing himself to, was that he thought that any association which is connected in any way with the White House should not bar Negroes from membership, and that is his position…
The pressure was now on in a very public way for the WHNPA to accept an African American photographer; meanwhile Maurice Sorrell's application was still pending. Within the next two weeks he was finally accepted. On April 28, Sorrell's editor sent a telegram to President Kennedy expressing his pleasure at Sorrell's election to membership in the White House News Photographers Association, and his appreciation to the President for his stance against racial discrimination with regard to any group associated with the White House.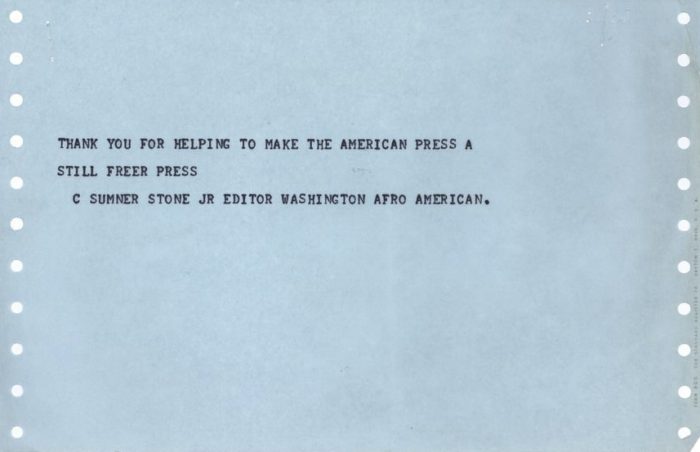 From the markings on this copy of the letter, we can tell that President Kennedy himself sent a response to Stone expressing his pleasure at this development.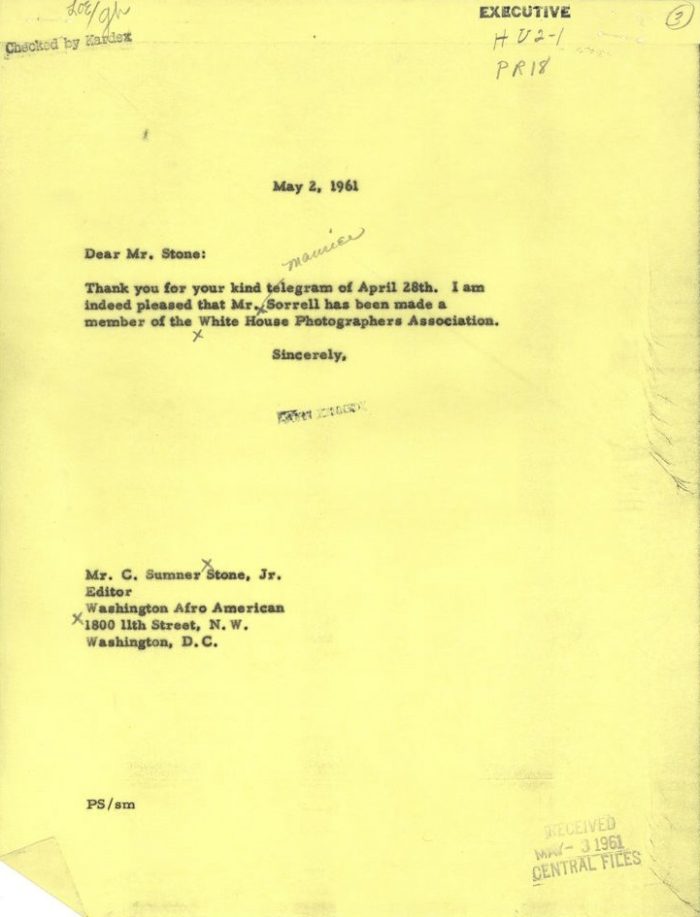 The timing was no coincidence. President Kennedy subsequently appeared at the WHNPA dinner on 19 May 1961. After the dinner and entertainment from artists including Chet Atkins and his Orchestra, President Kennedy was presented with an honorary membership to the White House News Photographers Association. Without Sorrell's own membership in the WHNPA, President Kennedy would not have attended this dinner, much less accepted this honor.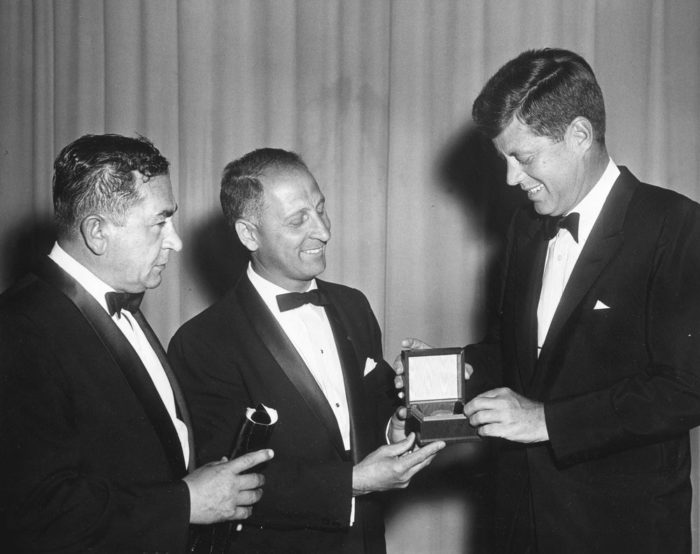 Sorrell's career as a news photographer continued, and the archives show that he switched employers around June 1962. Leaving the Washington Afro-American, Sorrell began his 31 year tenure at Johnson Publishing Company, which published the magazines Jet and Ebony until 2016.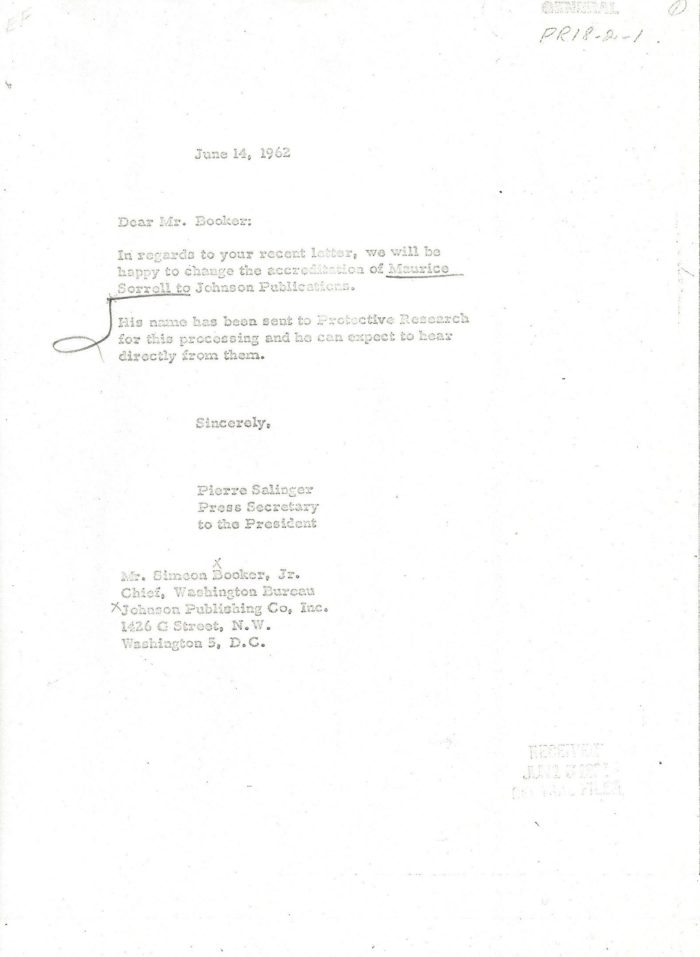 Throughout his career, Sorrell was a witness to the Civil Rights Movement and provided the imagery of events like the Montgomery to Selma March to his readers. He covered nine different presidential administrations and traveled to at least 24 different countries.[iii] The John F. Kennedy Presidential Library has some of Sorrell's work in its archives, too. In 1960 he took the following photograph of Marjorie Lawson and an unidentified man during John F. Kennedy's presidential campaign. Lawson was a lawyer and served as head of the 1960 campaign's civil rights section. When President Kennedy appointed her to the D.C. Juvenile Court in 1962, she became the first black woman to serve as a Juvenile Court judge.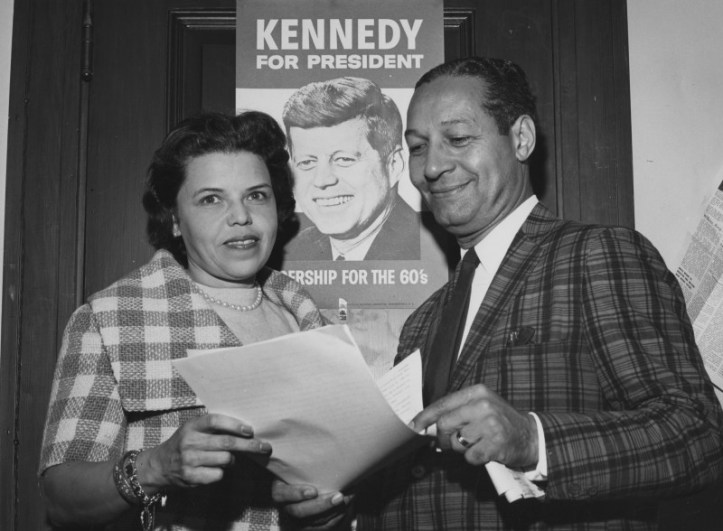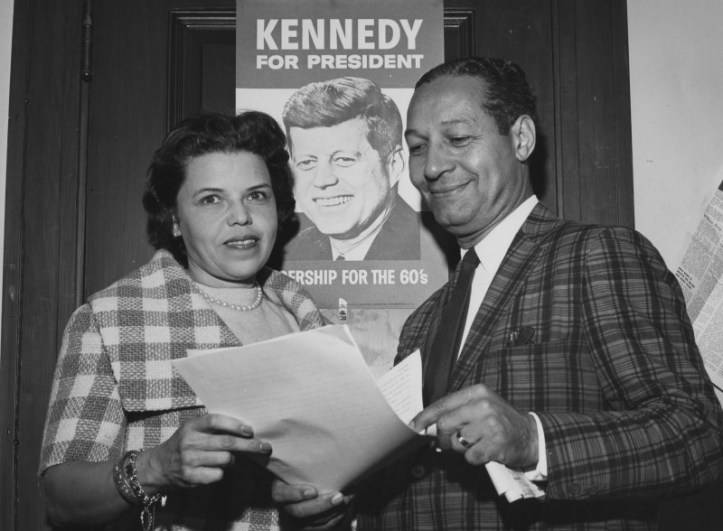 Not only did Sorrell capture decades of history, he was a mentor to others who followed in his footsteps. It is clear that he was beloved. In recognition of his distinction in photography throughout his professional career, the African American Photographers Association, called the Exposure Group, awarded its first lifetime achievement award to Maurice Sorrell in 1997. Thereafter the award itself has been known as the Maurice Sorrell Lifetime Achievement Award, which continues to be given today. It recognizes the high standards set by Mr. Sorrell and honors "excellence in a photographer's career for an overall lifetime body of work or major area of concentration."[iv]
Maurice Sorrell recalled those early days:
At times, I had problems shooting in the White House. They had a little thing where they would get arm in arm and try to push me back. Once they found out that I could shoot as well as they could, they accepted me.[v]
---
[i] http://encyclopedia.jrank.org (article no longer available online)
[ii] https://www.whnpa.org/about/history-of-the-white-house-news-photographers-association/
[iii] http://encyclopedia.jrank.org (article no longer available online)
[iv] http://www.exposuregroup.org/exposure-group-events/index.shtml
[v] https://www.washingtonpost.com/archive/local/1997/07/05/celebrating-a-lifetime-of-being-in-focus/a0ce2cba-5912-4780-988e-bebd8485182f/?utm_term=.9acac38cc0ae