By Will Gregg, Graduate Student Intern (Simmons University)
We are pleased to announce the opening of the Robert S. Greene Personal Papers. Greene grew up in Manhattan and attended Columbia College. While working on an M.F.A. in Theatre Arts, he took a job writing for the CBS radio network and won Writers Guild of America awards in 1957 and 1962 for his radio scripts. During the height of the Cold War, Greene would work for Voice of America (VOA), a government agency for international broadcasting, and as a speechwriter for President Lyndon B. Johnson. After his time with the Johnson administration, Greene began a career as a jazz musician and won acclaim for his tour, "Bob Greene's World of Jelly Roll Morton."
The collection includes two radio transcripts, inscribed publications, a letter to Robert F. Kennedy, a letter from President Johnson, and ephemera. Of particular interest are the two transcripts, which archivists thought complemented a memorial broadcast, "John F. Kennedy – A Personal Memory", written by Robert Greene for the Voice of America in April 1964. (The Library holds this sound recording in the United States Information Agency Audio Recordings collection and we were excited to have the transcript to go along with it.) Upon closer inspection, it was determined that these transcripts, titled "Memorial to John F. Kennedy", were drafts for a VOA broadcast following President John F. Kennedy's assassination.
According to the handwritten dates on the documents, Greene began drafting the script on the very day of Kennedy's death. In the drafts, we can see Greene trying to create something that would address his emotions alongside those of his audience. Though Greene had close to two decades of experience writing for radio and television, the degree to which he labored over word choice and rhythm is evident in handwritten edits on the transcript.
For instance, Greene carefully considered how best to present JFK's image. Take these two versions of the scene that occurred outside the Kennedy house on Cape Cod the morning after election day:
In the first draft, we read:
"After breakfast he appeared. It was about ten o'clock in the morning. He was tan….his hair windblown…and he was smiling."
In the second draft, the more romantic language about JFK's physical features has been struck out.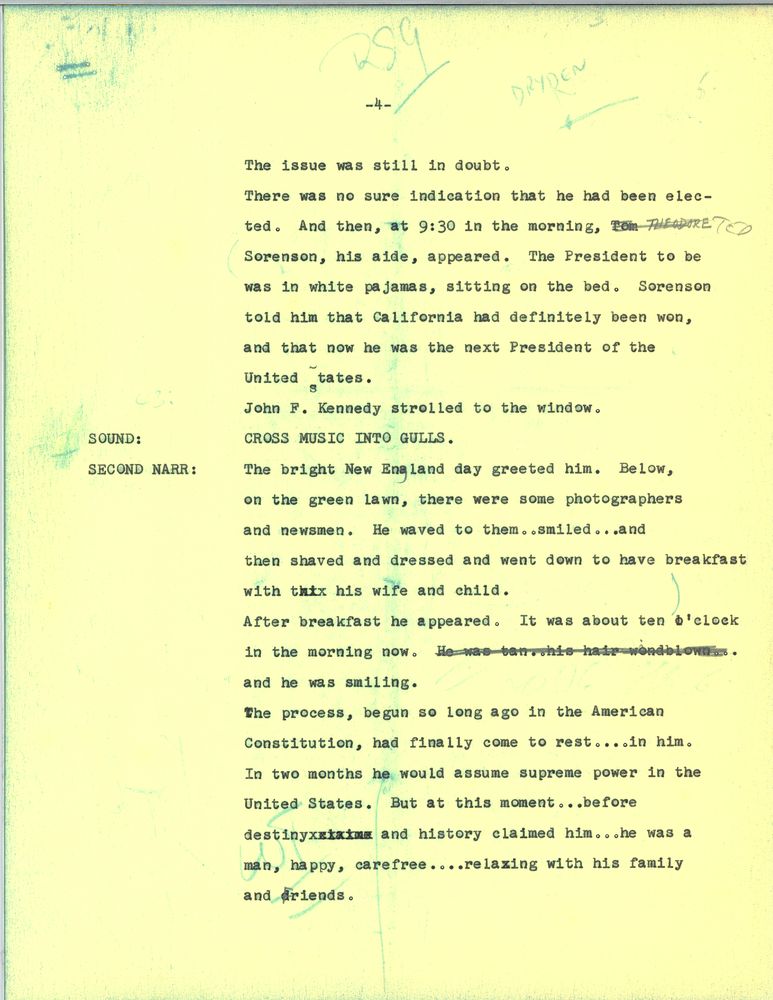 Greene's personal investment in the project is especially evident from a poignant note which he included at the end of the first draft: "hard not to have life in the show. He was so full of life."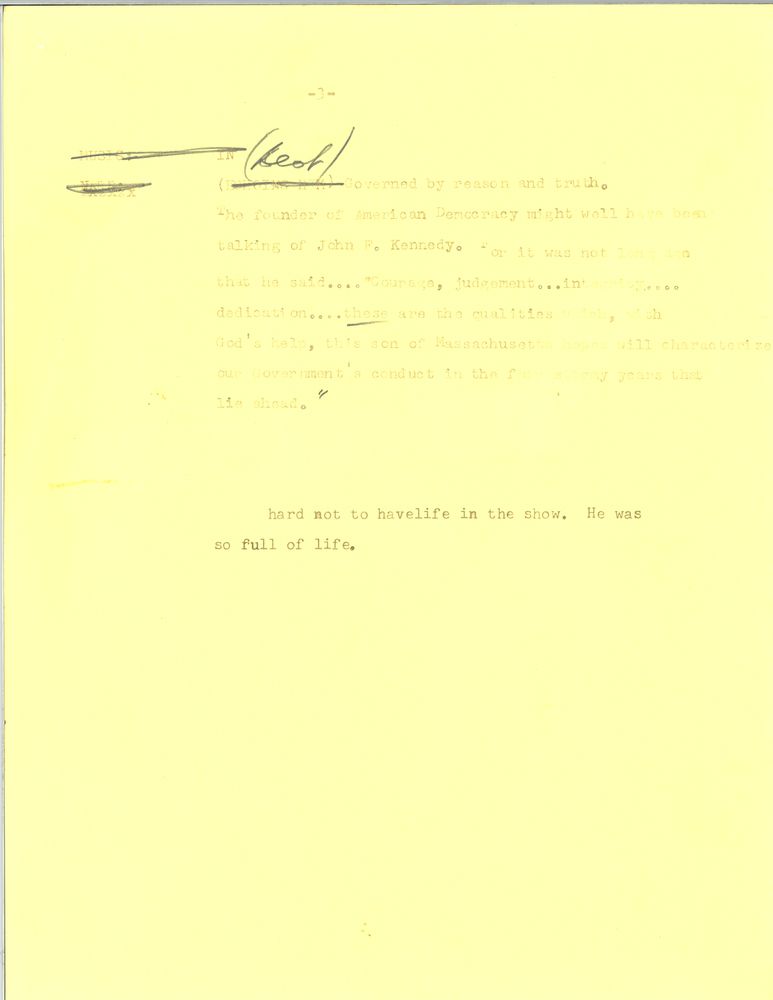 Beyond what we learn from the content of the broadcast transcript, these original drafts allow us to see more clearly from the author's perspective: they show us how the pages are cut and pasted together, when a line break was inserted to indicate a pause, or which words are added and taken away.
Unfortunately, we do not know if this piece ever aired. However, it is illuminating to see Greene's process in writing for a moment without precedent in his career and for both a national and international audience.
A detailed guide to the Robert S. Greene Personal Papers is available on our website.