By Abigail Malangone, Processing and Reference Archivist
New York Times reporter Charlotte Curtis recorded in her notes that the train carrying the body of the late Senator Robert F. Kennedy lurched out of New York City's Penn Station at 1:07 pm on June 8, 1968. This funeral train, carrying Kennedy and hundreds of mourners, was due to arrive at Union Station in Washington, D.C. four hours later; it arrived at 9:09 pm.
It is unclear who gets the credit for suggesting a train. Dave Hackett gave full credit to John Seigenthaler, while Seigenthaler intimated that it would have been the family's decision. In any event, the plan to have the funeral at St. Patrick's Cathedral and the burial at Arlington National Cemetery made the train as transport a practical decision. The two days between Senator Robert F. Kennedy's death and burial were a sleepless blur for many Kennedy staffers, friends, and family as arrangements were made to honor the fallen Senator with a fitting funeral and burial. Details big and small were delegated to and carried out with efficiency by individuals in various camps in New York City and Washington, D.C. This work began in the early hours of the morning on June 6, 1968 and did not end until the late hours of the night on June 8, 1968. Unfortunately, the sheer number of individuals involved, the geographic dispersal of duties, and the unfathomably quick turnaround time for planning leaves the Kennedy Library with very little documentation of these arrangements.
Luckily, much of this detail has been captured in interviews conducted by Jean Stein and associates from 1968-1970 for her book "American Journey: The Times of Robert Kennedy"; these interviews, along with other material related to the publication, were deeded to the Kennedy Library in 2014. Her book utilized oral history as narrative, weaving together stories about Senator Robert F. Kennedy's life, career, death, and the funeral train. This past year, archivists at the Kennedy Library reviewed and opened for research 160 interviews from the Jean Stein Personal Papers collection. They contain not only recollections of Kennedy's life, death and burial, but remarkable insight and remembrances into the state of the nation in the 1960s, especially on matters concerning civil rights and Vietnam.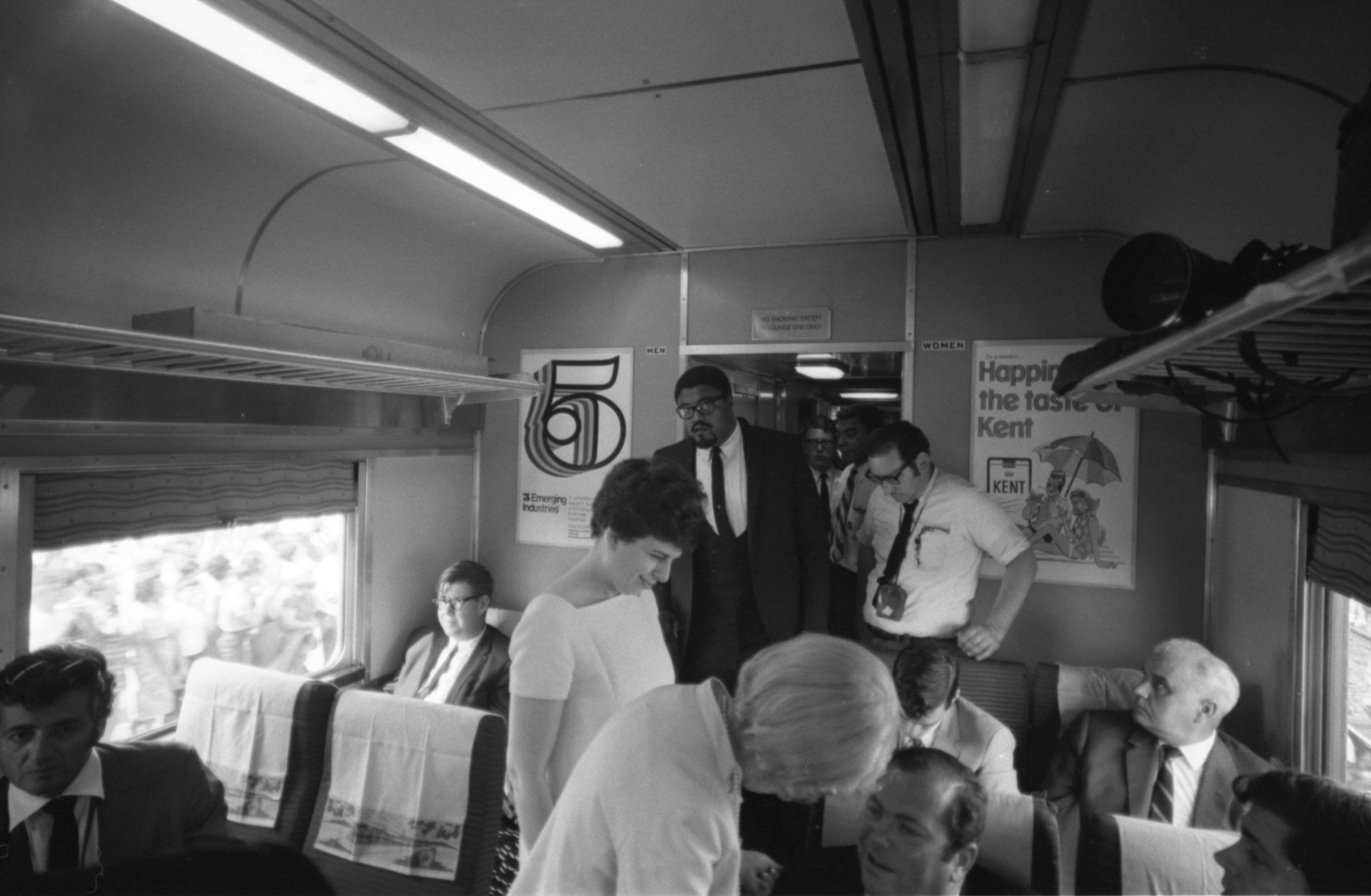 The funeral train journey was a uniquely shared experience. For many, this was the first opportunity they had to sit and reflect on Kennedy's passing. Some found the train jovial — a "rolling Irish wake", complete with heavy drinking; others found it somber and sober. Joseph Alsop aptly summed up the disparity by observing, "There was always that ludicrous mixture of heartbreak and how do you get your sandwiches?" Jack Newfield found the mood in every car to be different, a direct reflection of the extreme diversity of the people who were on the train. William Walton found it remarkable that all those people could be connected by the one thread of the Kennedys. Many passengers moved from car to car reconnecting with old friends; some passengers, like Marian Javits, did not move from their seats for the whole 8 hour journey. With Robert F. Kennedy's casket in the last car, many took turns standing vigil, simultaneously holding the casket that was propped up on chairs. In Ralph Abernathy's interview he recalled, "I was not a pallbearer, but at least I lifted the weight of his body when he could no longer lift it."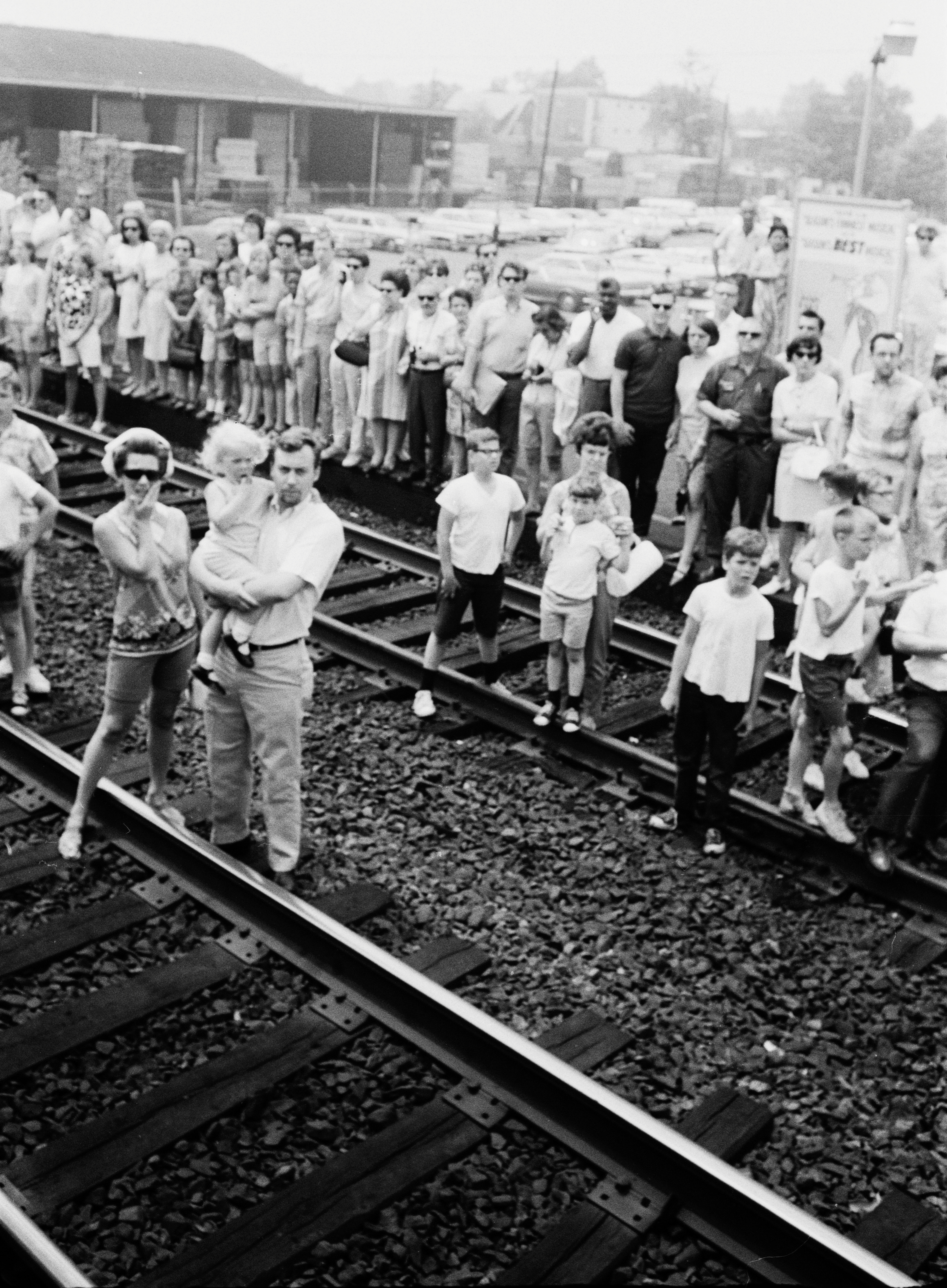 It was decided shortly after the train began its journey that Kennedy's casket was too low and needed to be propped up; it could not be seen by the crowds that were beginning to appear as the train passed. While the memories shared by those on the train differed at times, they all crystallize as they talked about the crowds that lined the tracks. When asked in their interviews about what struck them most about the train, the answer again and again was the crowds. While the train was insulated and you could forget your grief for a time, a glance outside was all it took to bring you back. Michael Harrington remembered, "I would see in a sense my own grief mirrored in other people's faces and that was the experience that would threaten my composure." Some weren't able to keep their composure. Joseph Mohbat spent most of his time standing between cars with Jack Miller. "He's a tough guy, and we both were standing there weeping as we saw these people saluting by the tracks."
John Glenn thought the crowds were the greatest possible tribute to Senator Kennedy and Walter Sheridan took this sentiment a bit further: "Best day he ever had!" When campaigning, Kennedy was impressed by and enjoyed a great turnout. Several former advance men for the Senator commented that he would've been pleased and asked "Who advanced this?" However, the overwhelming emotion was sadness. Newfield remembered, "I sort of felt sad for myself and for Kennedy's family, but seeing those black people made me feel sad for the country. It was at that point I realized what the country lost and that this guy was historically irreplaceable."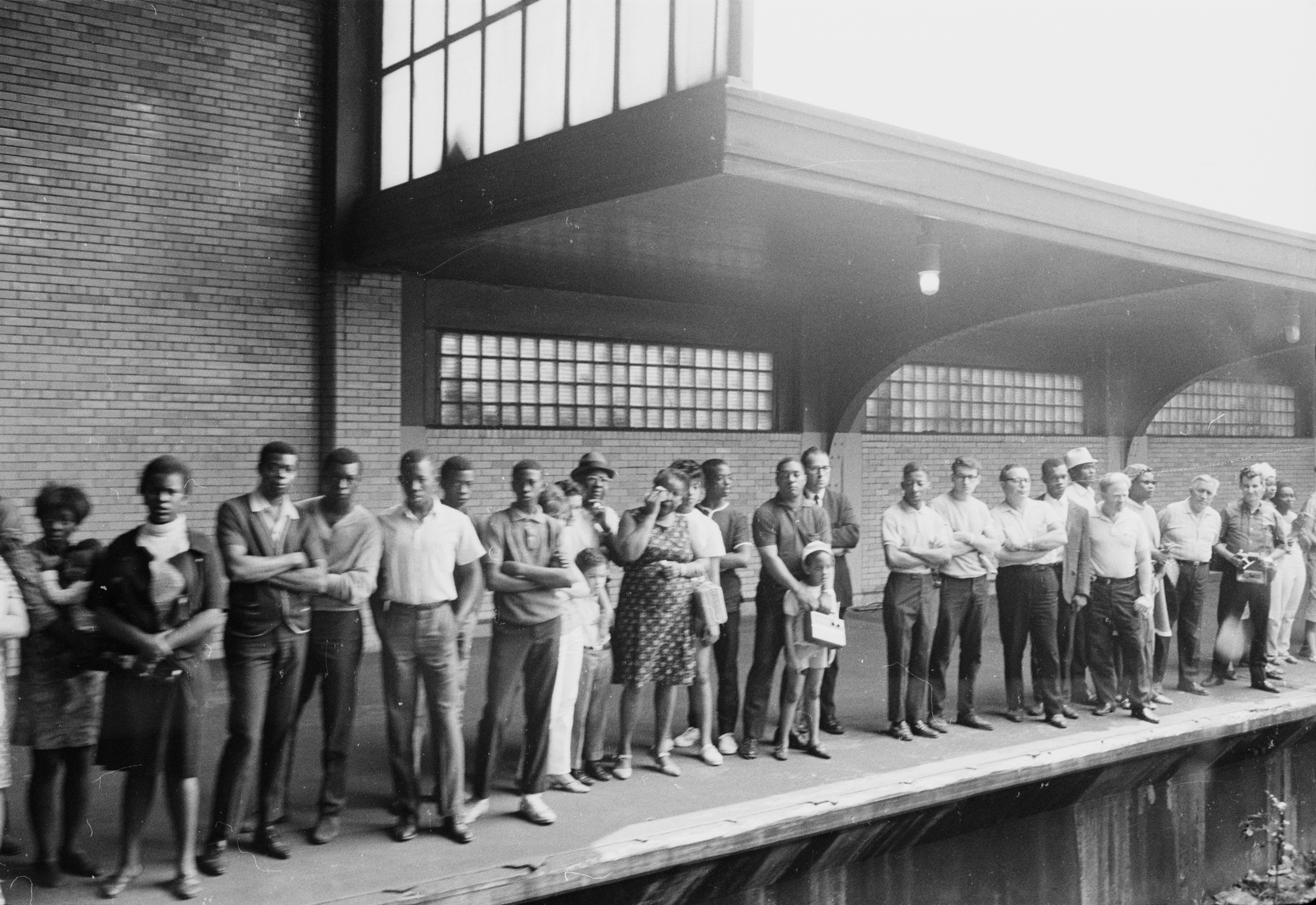 Whether they came out to see the train go by out of respect, or just out of curiosity, the impact on the passengers was great. Stations would typically contain long lines, several rows deep, but even more touching to the people on board were the one or two lonely figures that appeared in fields along the way. Ted Sorensen recalled:
"There was on the train, a reaction to the enormous crowds that lined the tracks outside all the way…very touching and moving portraits of Americans of every age and race and sex and economic and ethnic background who regarded the train as they regarded the Senator…as a special happening in their lives; and who saluted him in death as he passed by, just as so many of them had saluted him in life."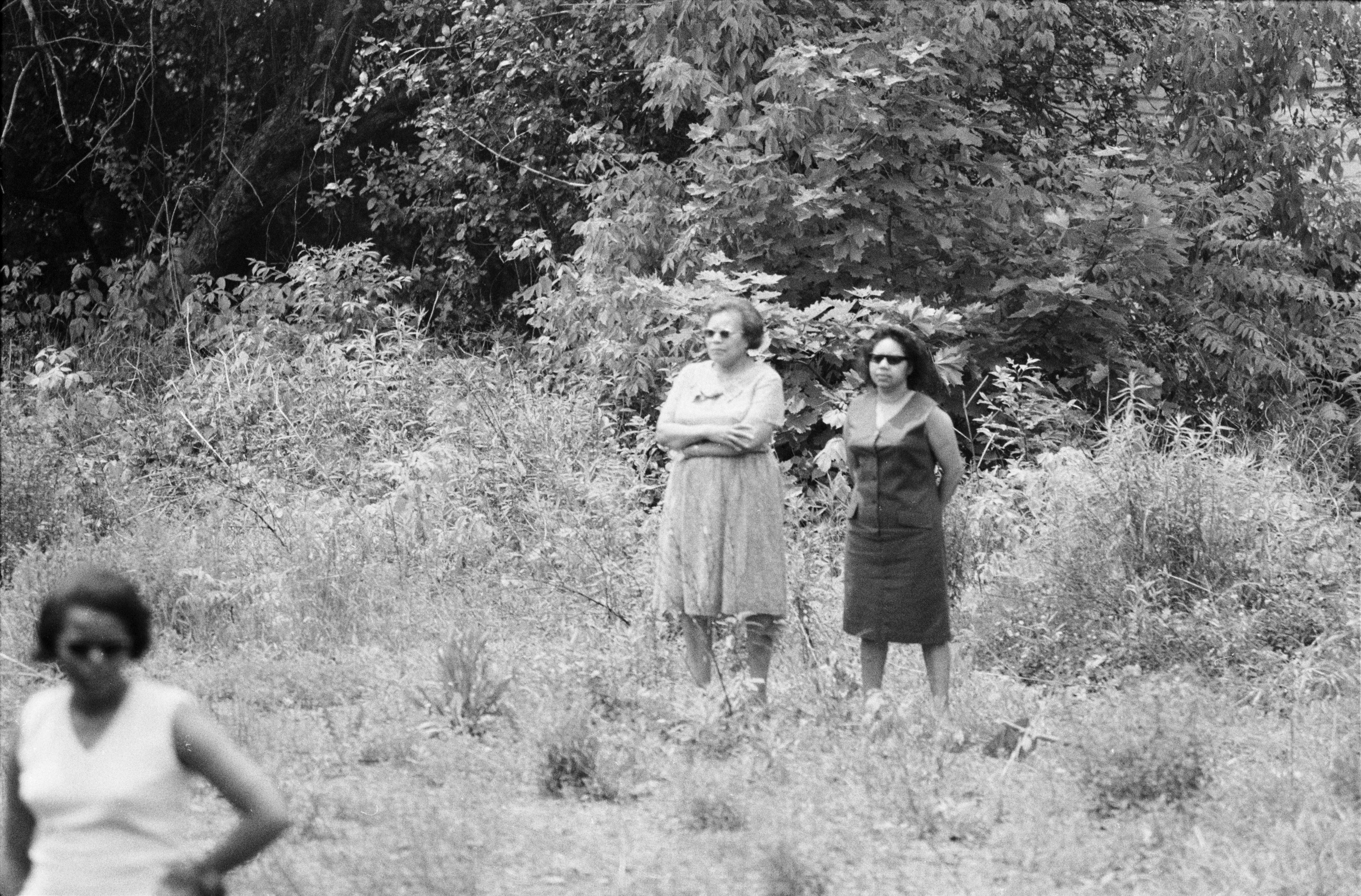 By the time the train reached Union Station, the passengers were emotionally drained. While some were ready to lay Senator Kennedy to rest, others weren't quite ready to say goodbye. Dave Powers remembered, "…you had a feeling that you wished that the train would just go on and on and on…"