By Stacey Flores Chandler, Reference Archivist
As you might know from our 2021 post Newly-Digitized Documents (218,000 of them!) from the Archives, federal archivists at the John F. Kennedy Presidential Library have been working on our textual "digitization backlog," made up of thousands of documents we've scanned, but hadn't put through the more time-consuming cataloging process that lets us post them online for public access.
To catalog our backlog, we run through a checklist that includes reading every scanned page, applying search terms, and writing descriptions and technical metadata for every folder so they're all findable in internet searches. Between March 2020 and March 2021, we added 1,964 folders holding 218,239 pages to our digitized holdings – and we're back this year with another update!
Since March 2021, we've posted another 2,133 folders totaling 144,895 pages. These frequently-requested folders include documentation of John F. Kennedy's work in the United States Senate; public opinion letters offering suggestions and criticism of the space program; advice on the economy and tax cuts from the President's chief economic advisor; Presidential briefing books for John F. Kennedy's travels and meetings around the world; daily updates from the President's intelligence checklists; the Army's plans for John F. Kennedy's funeral and gravesite following his assassination on November 22, 1963; and more. We're excited to share some of this newly-available material with you!
---
John F. Kennedy SEnate Files, speech files: Fully Digitized
Organized by date, the Speech Files series includes drafts, reading copies, and press releases for speeches Kennedy delivered between February 1953 and November 1960. Though they're not a complete representation of all of his statements in this time period, they provide a glimpse into the Senator's policy positions, communication style, and early partnership with Theodore C. Sorensen, who would remain Kennedy's principal speechwriter all the way to his final speech. Many of the documents in this series include Kennedy's and Sorensen's handwritten edits as they perfected the drafts – a process they carried with them into the Presidency.
---
National Security Files, PRESIDENT'S INTELLIGENCE CHECKLISTS: Fully Digitized
The 1960s equivalent of the modern-day President's Daily Briefing (PDB), the President's Intelligence Checklists (PICLs) were created by the CIA to update President Kennedy on intelligence developments almost every morning. You can read more about the PICLs in our blog post Newly-Digitized: JFK's Daily Intelligence Briefings and access all of the documents starting in Box 353 of the National Security Files.
---
White House Staff Files of Walter Heller: Fully Digitized
Walter Heller was the President's economic adviser and chair of the Council of Economic Advisors, and his papers have become one of our most popular collections for studying the Kennedy Administration's economic policies. The records are particularly helpful for researchers focusing on Kennedy's budgets and tax cut proposals, which aimed to reduce the top marginal tax rate from 91% to 65% and the corporate tax rate from 52% to 47%.
Because this collection is entirely on microfilm, Heller's papers have only been available to researchers who could visit the Library in person to use the research room's microfilm reader – until now. We've digitized all of the open microfilm rolls from this collection, making them accessible from anywhere.
---
White House Central Subject Files, President Series: Partially Digitized
The White House Central Subject Files was one of the primary correspondence files for the Kennedy White House, containing mail from constituents, replies from White House staff, and internal memos and other documents that allow us to explore how the Administration handled requests, criticism, inquiries, and suggestions from the public on a wide variety of subjects. The President series focuses on letters about the President himself, on topics ranging from his childhood and military service to his favorite foods, books, music, cigar brands, and quotes. You can find all of the digitized President series folders starting in Box 718.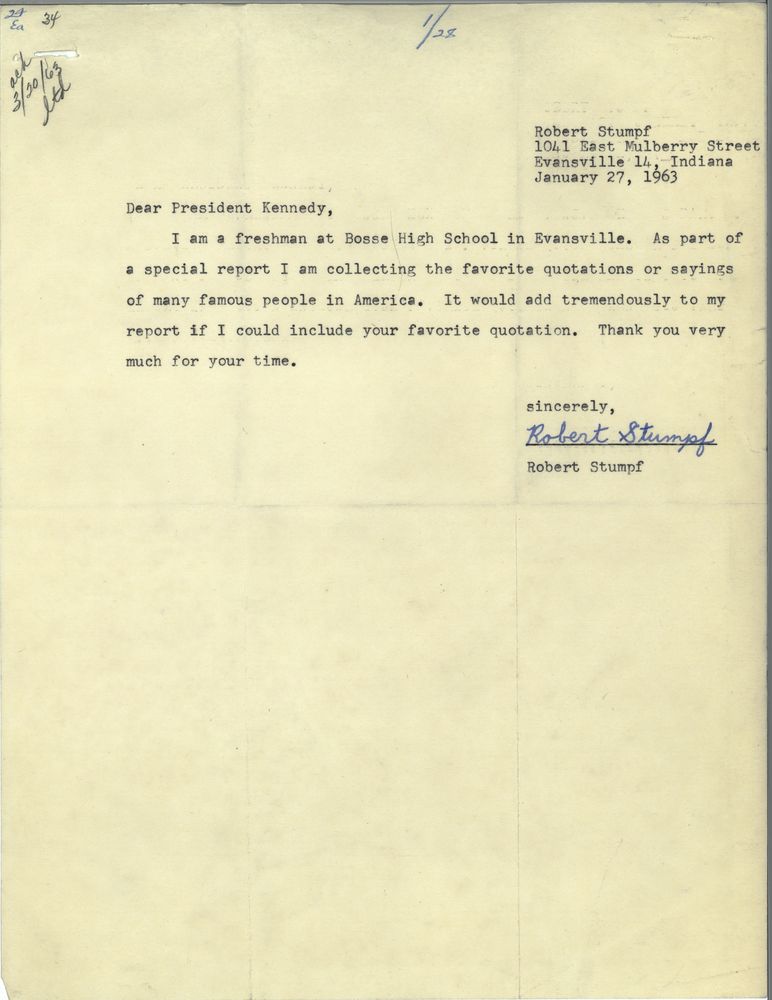 ---
White House Central Subject Files, Outer Space Series: Fully Digitized
Another topic covered by the public opinion mail in the White House Central Subject Files is what the Administration called "Outer Space," and this series contains letters from constituents about the National Aeronautics and Space Administration (NASA) space program, space flights, and astronauts – including letters criticizing the lack of diversity in these programs. To learn more about people who wrote to the President in support of including women, LGBTQ+, and Black experts and astronauts in the space program, check out our blog post "Patient No Longer": Fighting for Representation in the Space Race and browse space-related letters starting in Box 652.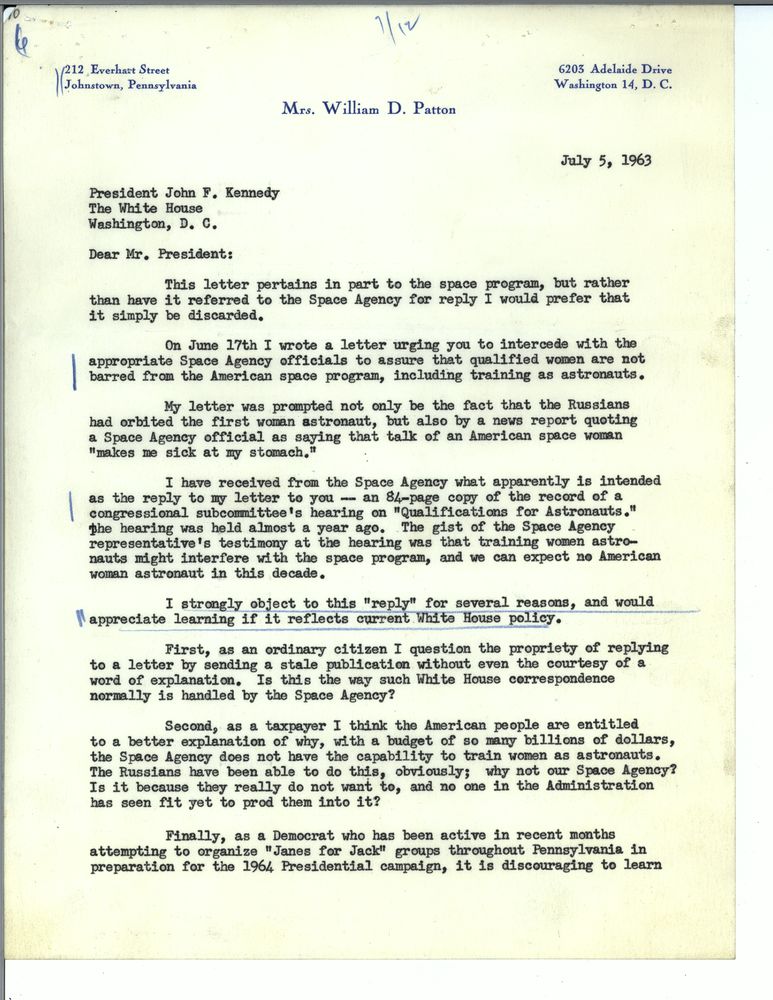 ---
U.S. Army Adjutant General Records: Fully Digitized
In the 1960s, the United States Army's Office of the Adjutant General had a range of responsibilities, including the organization of special and heraldic services for the President and federal agencies. This collection contains records related to President Kennedy's state funeral following his assassination on November 22, 1963, as well as the design and construction of his gravesite at Arlington National Cemetery.
---
Evelyn Lincoln Personal Papers: Partially Digitized
As Personal Secretary to John F. Kennedy from his Senate years through his Presidency, Evelyn Lincoln was tasked with documenting the President's daily schedules – including the last-minute Oval Office meetings that didn't always make it into his "official" appointment books. When studied alongside the President's Appointment Books, Lincoln's newly-digitized "Day at a Glance" diaries help to fill in the gaps on some of the most active and complex days of the Kennedy administration. You can find her digitized calendars in Boxes 3-7 of her personal papers collection.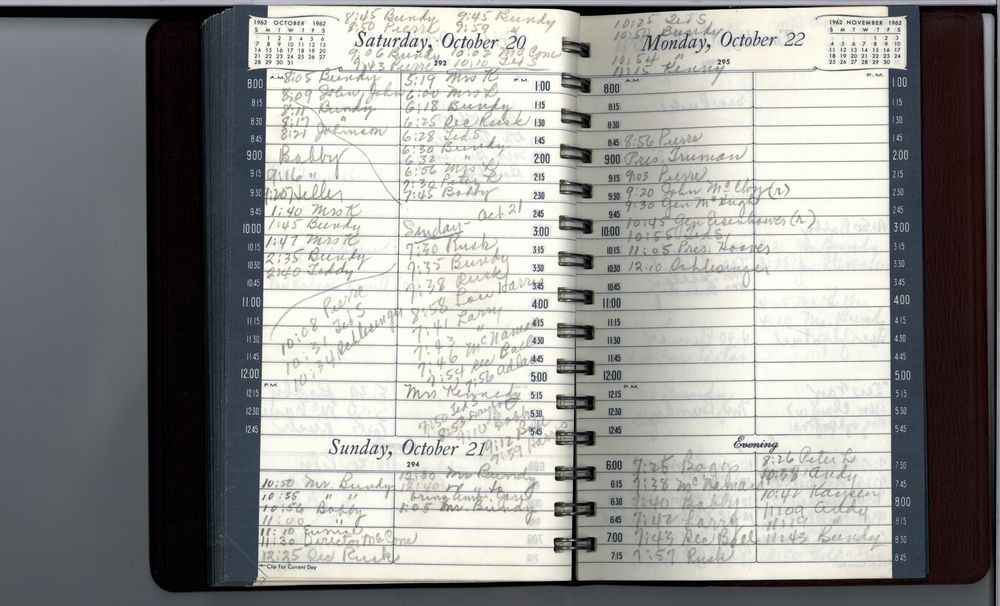 ---
National Security Files, President's Trips Folders: Fully Digitized
As you might expect, the President's international trips and meetings take a lot of preparation – and not just by the President. National security experts and advisors routinely put together briefing books, talking papers, background materials, schedules, and biographies to help President Kennedy to learn about the major issues affecting the regions he planned to visit, the people he'd be meeting and what they'd want to talk about, U.S. policy positions on various international issues, and reports and analysis created after the meetings. These records are now part of the National Security Files, and they provide a fascinating window into President Kennedy's then-private conversations with other world leaders. Explore them all starting in Box 233.
---
John F. Kennedy Senate Files: Partially Digitized
In addition to the Speech Files series, we've cataloged and published the following series from John F. Kennedy's Senate Files:
– Series 6.6. Correspondence with Government Departments, 1953: This series holds correspondence related to the Senator's constituent requests and case files, arranged by the name of the agency handling each case.
– Series 6.7. Correspondence Copy Files, 1953-1960: We've digitized the files for 1953 and 1955, which include carbon copies of letters sent from John F. Kennedy's Senate office.
– Series 12.2. Reading Copies, 1958-1960: Senator Kennedy read from these copies of his speeches while delivering them, and many include his last-minute handwritten edits.
– Series 12.3. Algerian Speech File, 1957: This series contains materials related to Senator Kennedy's July 1957 speech advocating for an independent Algeria, and the resulting public opinion mail.
– Series 12.4. Meet the Press File, 1951-1960: This series holds official and unofficial transcripts of Senator John F. Kennedy's appearances on the NBC television program "Meet the Press."
– Series 12.5. Press Releases, 1953-1960: John F. Kennedy's Senate office staff issued these documents, which include speech transcripts and details on legislation he sponsored, to the press.
– Series 12.6. Democratic Advisory Committee Policy Statements, 1956-1960: This series contains policy statements, press releases, and pamphlets issued by the Advisory Council of the Democratic National Committee.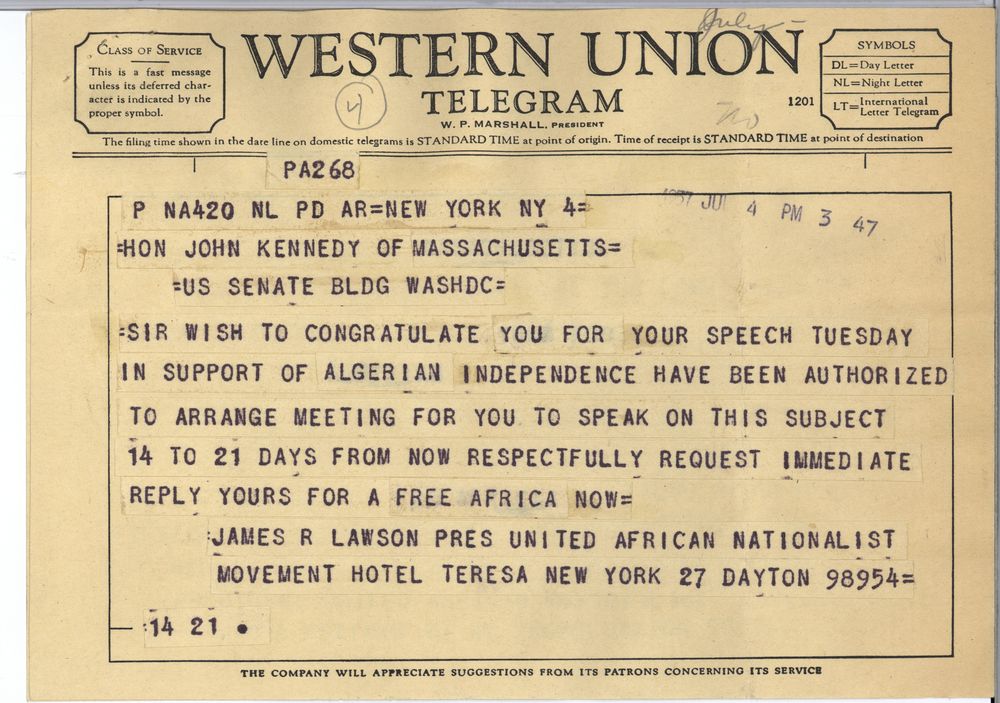 ---
We're continuing to work on our backlog, with more material from the White House Central Subject Files, the Returned Peace Corps Volunteers Collection, the National Security Files, and other collections coming online soon. If you have any questions about our digitized holdings – or if you want to know how you can request digitization of materials in the JFK Library's archives – reach out to us at Kennedy.Library@nara.gov!