(A version of this post was published on our previous blog on 12/17/2016.)
By Laura Kintz, Archivist for Photographic and Textual Digitization
For those interested in President Kennedy's trip to Germany in June of 1963, we are pleased to say that all White House Photographs documenting that visit are available online.
These photographs, covering June 23 to June 26, 1963, document President Kennedy's only official trip to what was then a divided Germany. He spent four days in West Germany, also known as the Federal Republic of Germany, inaugurating a 10-day trip to Europe that also included visits to Ireland, England, and Italy. During those four days, the President visited several cities and towns, including Bonn, Cologne, Hanau, Frankfurt, and West Berlin. He delivered remarks, met with government officials, signed cities' "Golden Books" for distinguished guests, visited with U.S. Embassy employees and members of the U.S. military, and greeted German well-wishers. Occurring during a contentious time in Germany's history, President Kennedy's visit represented the United States' commitment to supporting West Germany and its leaders, including Chancellor Konrad Adenauer and President Heinrich Lübke.
Among President Kennedy's numerous speeches in Germany was one given at the signing of the charter for the German Development Service, an organization equivalent to the Peace Corps. The President's sister Eunice Kennedy Shriver and Secretary-General of the International Peace Corps, Richard Goodwin, were also present at the ceremony.
President Kennedy also took the time to visit American troops stationed at Fliegerhorst Kaserne, a military base in the town of Hanau. He viewed military displays and had lunch in the mess hall, where military cooks presented him with a cake in the shape of PT-109, the boat that the President commanded during World War II.
Of significance during President Kennedy's trip to Germany were his remarks delivered at Rudolph Wilde Platz outside West Berlin's city hall, Rathaus Schöneberg, on June 26. In this speech, the President famously declared, "Ich bin ein Berliner," or "I am a Berliner." One photograph from this event was previously cataloged, but newly-available photos provide different vantage points of the large crowds who gathered for the occasion.
West Berlin was not the only site where crowds converged to see President Kennedy. The entire trip was characterized by throngs of people who took to the streets and plazas of West Germany to see the President, either as his motorcade passed by or as he delivered remarks. These photographs provide evidence of the sheer volume of people who gathered for the President's visit.
One notable result of cataloging these photographs was that metadata catalogers were able to identify numerous people who had previously been unidentified in the White House Photographs collection. Using both textual and audiovisual resources within the Kennedy Library's collections, as well as contemporary newspaper accounts, Ancestry.com, and other resources, we were able to add 19 names to the Kennedy Library's database of personal name browsing terms. Among them are: Director of Radio in the American Sector (RIAS) in Berlin, Robert Lochner, who served as President Kennedy's translator for much of the trip; several members of the United States Armed Forces who were stationed in Germany, including Commander in Chief of the U.S. Army in Europe, General Paul L. Freeman, Jr., Commander in Chief of U.S. Air Forces in Europe, General Truman H. Landon and U.S. Army in Europe Project Officer, Colonel Frank Meszar; and Rector of Free University in Berlin, Ernst Heinitz, who conferred an honorary citizenship award upon the President on his last day in Germany.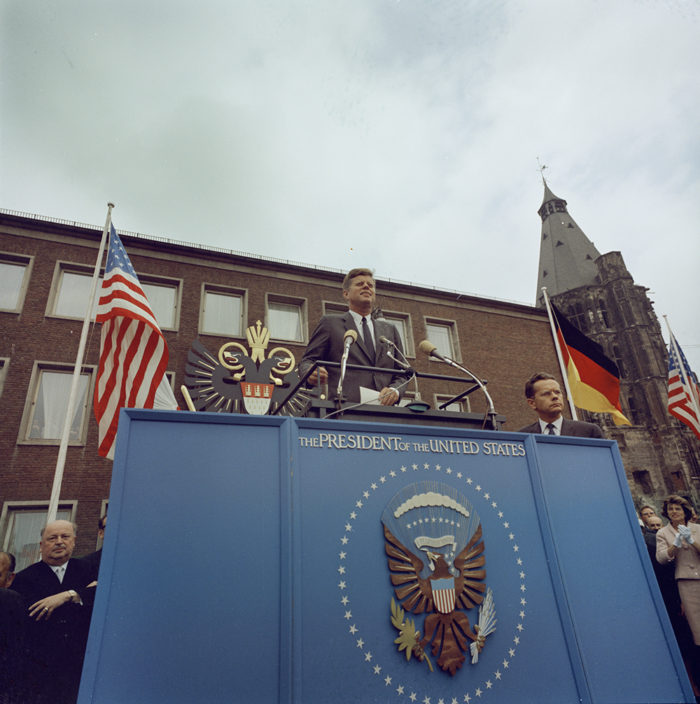 President Kennedy's trip to Germany represented a significant diplomatic venture of his presidency. The photographs from the trip, long available for viewing onsite at the Kennedy Library, may now be found by online users all over the world. In addition to the inclusion of browsing terms for individual people, other terms have been added to the photographs to aid in searching for specific subjects, places, and organizations. The images offer insight into President Kennedy's travels to a much broader audience as a result.
Browse all photos from President Kennedy's trip to Germany:
Germany, Bonn: Arrival, Konrad Adenauer, Chancellor of West Germany pictured
Germany, Cologne: Kölner Rathaus (City Hall)
Germany, Cologne: Motorcade, Cathedral
Germany, Bonn: City Hall, ceremonies and remarks
Germany, Bonn: Address at the American Community Theater before the American Embassy staff
Germany, Bonn: Villa Hammerschmidt, Peace Corps Ceremony
Germany, Bonn: President Kennedy gives a press conference
Germany, Bonn: President Kennedy with Heinrich Lübke
Germany, Bad Godesburg, U.S. Ambassador's Residence: President Kennedy signs Golden Book
Germany, Hanau: Arrival at Fliegerhorst Kaserne, address, and inspection of troops and equipment
Germany, Hanau: President Kennedy has lunch with U.S. enlisted troops and their officers at Fliegerhorst Kaserne
Germany, Hanau: Departure from Fliegerhorst Kaserne
Germany, Frankfurt: Frankfurt Rathaus
Germany, Frankfurt: President Kennedy gives address in Roemerberg Square
Germany, Frankfurt: President Kennedy at Paulskirche
Germany, West Berlin: President Kennedy arrives at Tegel Airport
Germany, West Berlin, President Kennedy views the Berlin Wall at the Brandenburg Gate
Germany, West Berlin: President Kennedy at Checkpoint Charlie
Germany, West Berlin: President Kennedy addresses crowd at Rathaus Schöneberg
Germany, West Berlin: President Kennedy in motorcade with Willy Brandt, Mayor of West Berlin and Konrad Adenauer, Chancellor of West Germany
Germany, West Berlin: President Kennedy addresses Free University