By Jennifer Koch, Former Graduate Student Intern (Simmons University)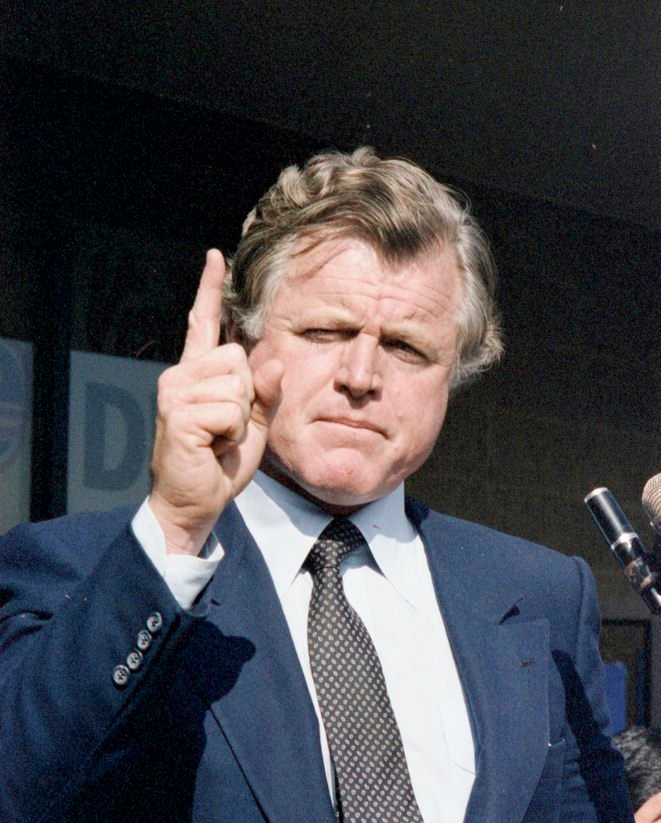 A popular way to learn about American politics is to watch or listen to digital media presenting the views of the politicians. As the Digital Age advances, more and more people prefer to get their news through digital media, such as radio, podcasts, video, etc. After a year of interning in the Audiovisual Archives at the John F. Kennedy Presidential Library, I've gained an entirely new view and understanding of American history — in addition to learning about audiovisual digitization and the dedication it takes to make such records publicly accessible. Between learning about quality control, ingest, and digitizing sound recordings, the majority of my work was focused on creating metadata as I listened to Senator Edward M. "Ted" Kennedy's radio show series "Face Off" from his Senate Files collection. It is fascinating to hear just how much radio has changed since Kennedy's days as Senator, and it is rewarding to listen to politicians with opposing viewpoints discuss contemporary issues.
The radio show "Face Off" aired on the Mutual Broadcasting System. The Senate Files collection contains episodes that date from May 1986 to September 1993. The series consists of over 1,900 individual audio recordings of two-minute radio segments that were broadcast each weekday. Each show focused on a new topic of debate and each Senator (one Republican and one Democrat) had a minute to argue a position on behalf of their respective political party. Initially, Senator Kennedy of Massachusetts debated against Senate Republican Leader Robert Dole of Kansas, until Senator Dole left to seek the Republican presidential nomination in November 1987. Senator Alan K. Simpson of Wyoming, the Republican Whip, then stepped in to continue the radio debates with Senator Kennedy.
The best part about listening to these tapes is getting transported back in time to the 80s and 90s, when the world debated and endured such similar, yet different, current events and political viewpoints. (When researching in the Audiovisual Archives at the JFK Library, it becomes clear how history and politics can repeat.) While some topics, such as gun control and job creation, are familiar to me in current political debate, many I never even knew existed. However, these topics were, and still are, entirely relevant to generations of Americans before me as shared histories. While such a large collection of historical and political topics can get heavy, these tapes prove to be an effective crash course in American history during Senator Kennedy's tenure. The radio segments address hundreds of topics, ranging from serious to silly. Some recurring topics include the "Star Wars" Strategic Defense Initiative and the end of the Cold War; anti-smoking legislation; apartheid in South Africa and the revolutionary Nelson Mandela; the struggle against the "War on Drugs"; representation of women in the military; and multiple presidential elections. These small recaps of significant moments in history can appeal to any audience. Each segment transports the listener back in time to the issue at hand and demonstrates multiple positions in the space of two minutes.
The "Face Off" tapes prove to be entertaining, as well as educational. Throughout the years, Senator Kennedy and his fellow co-hosts liked to poke fun at each other. For instance, Senator Kennedy often refers to Senator Simpson as "Homer Simpson." They also love to debate some quirky topics. For example, was the rumor true that extraterrestrials from outer space had infiltrated the Senate? Would it be a good idea to use geese as a military defense? Did the Senators have a special way to celebrate and send holiday greetings?
These recordings are full of fascinating, funny, and historical insights just waiting to be discovered. You can view the guide to the Edward M. Kennedy Senate Files collection, including the full listing of the "Face Off" Audio Recordings, 1986-1993, here.