By Christina Fitzpatrick, Processing Archivist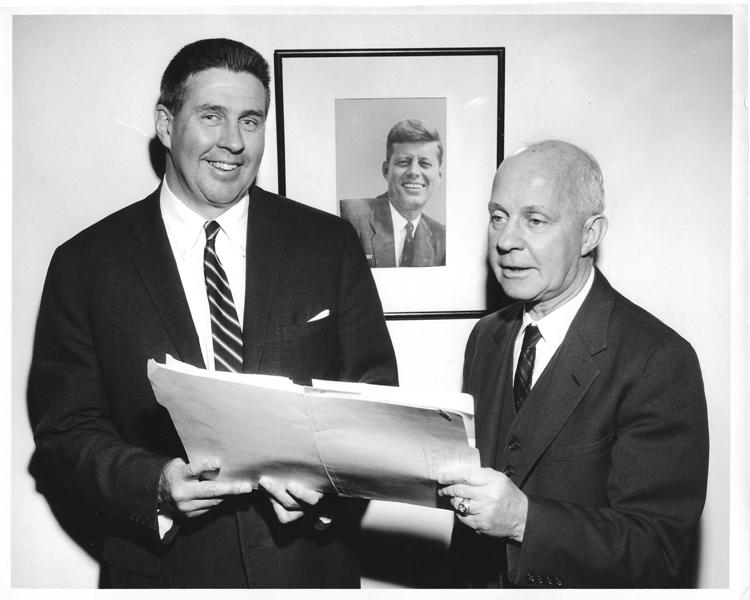 We are pleased to announce the opening of the Benjamin A. Smith Senate Files. Smith served as U.S. Senator from Massachusetts from 1960 to 1962. His files represent a bridge between Senators John F. Kennedy and Edward M. Kennedy. The John F. Kennedy Library holds the Senate papers of all three men, which means that this particular Senate seat is continuously documented from 1953 to 2009.
Benjamin Atwood Smith II was born in Gloucester, Massachusetts, on March 26, 1916. He was a classmate of Joseph P. Kennedy, Jr. and John F. Kennedy at Harvard University, and graduated in 1939 with a B.S. and a concentration in economics. During World War II, Smith served as a lieutenant in the U.S. Navy in the Pacific. After returning home, he pursued a business career that included terms as president of the Merchant Box Company and Cape Ann Fisheries. At the same time, Smith was building a record of public service as a member of the Gloucester School Committee and the Gloucester City Council. He was elected mayor of Gloucester (1954-1955) and worked on John F. Kennedy's political campaigns. In December 1960, Smith was appointed by Massachusetts Governor Foster Furcolo to fill the Senate seat that had been vacated by President-elect John F. Kennedy. Smith represented the people of Massachusetts in the Senate until Edward M. "Ted" Kennedy won the special election to fill the seat in November 1962. Shortly thereafter, President Kennedy named Smith as chairman of the U.S. delegation to the North Pacific Fisheries Conference, which was negotiating international fishing treaties. Later in the 1960s, Smith worked on Robert F. Kennedy's political campaigns. He remained active in his Gloucester businesses and local politics until his death on September 26, 1991.
The collection contains records created by Senator Smith from 1960 to 1962. These office files from his Washington, D.C., office document the regular duties undertaken by the Senator, with a particular emphasis on constituent case work. Types of case files include general cases, military cases, veteran cases, immigration and naturalization cases, and political cases. In addition, the collection contains carbon copies of outgoing letters, press releases, applications for military service academy nominations, photographs, and a small number of subject files. Please note that due to the personal and private nature of the constituent work, and to protect the privacy of living individuals, most constituent case files are subject to review by archives staff before use.
In addition, due to the complicated nature of constituent work where certain cases could take multiple years to resolve, there is some overlap between Senator Smith's files, John F. Kennedy's Senate files, and Edward M. Kennedy's Senate files. In particular, portions of Senator Smith's files were retained by Edward M. Kennedy and his staff, and were later donated as part of Kennedy's Senate collection. Please consult the Research Room staff for assistance in locating the files you need.
A detailed guide to the Benjamin A. Smith Senate Files is available on our website. The JFK Library also holds an oral history interview with Senator Smith.